Esthetic Dental Implant
หน้าแรก » Dental Implant » Esthetic Dental Implant

Dr. Aubonrutt has been practicing dental implant since 1995. Over 15 years of experiences in implant dentistry and the impeccable periodontal cares, she discovered how to create the soft tissue surrounding the dental implant in the esthetic zone.
The esthetic issue occurs when the implant is in the esthetic zone.
The "Black Triangles" are frequently the problem of the upper front implants.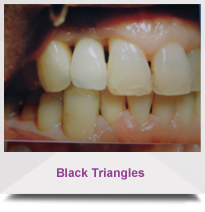 The upper right lateral incisor is a dental implant which was done under the normal protocol.
The gingival papillae was unable to develop in this case.

In order to solve this problem, Dr. Aubonrutt developed a technique to create the gingival papillae
(gums around the implants) between two implants in the esthetic zone for her patient since 1998.
It is suitable for the patient who had a bridge or a partial denture to replace teeth in the esthtic zone.
This technique results in restoring the soft tissue between the two dental implants and the adjacent teeth back to the natural architecture of the dentition.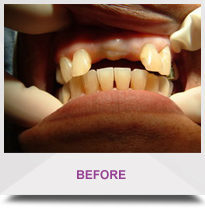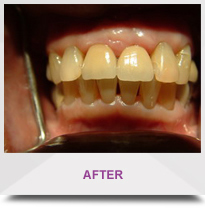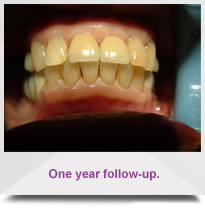 Single Dental Implant
"The upper left lateral incisor is a dental implant replacing a failed root canal treated tooth."
(The lateral incisor is located between the central and the canine)

All the pictures chronically illustrate the two upper central incisors which were
Dr. Aubonrutt's original dental implant patients.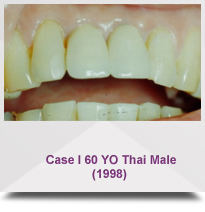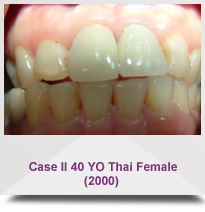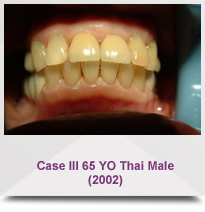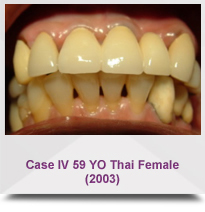 Note : The appearances of the two central dental implants may be differrent according to the materials chosen to fabricate the crowns.