Periodontal Surgery
หน้าแรก » Periodontal » Periodontal Surgery

Periodontal surgery is designated to treat patient with pocket depth 6 mm. or deeper.
The objectives of surgery are
To gain access to clean up the root surfaces
To eradicate the bacteria which the cause of periodontal diseases
To reduce the pocket depth
To regenerate the new periodontal apparatus.
After the patients finish the initial treatment (SC & RP), the patient will be evaluated for periodontal surgery.
The mouth is devided into 4 quadrants and therefore the maximum is 4 surgeries. One quadrant periodontalsurgery under local anesthesia is approximately 30-45 minutes for Dr. Aubonrutt.The patient can choose to undergo surgery 1-2 quadrants and in selected cases a full mouth periodontal surgery can be done in single visit depending on the patient's schedule.We also offer full mouth periodontal surgery under local anesthesia or under general anesthesia
at the affiliated hospital or (Click Fear of Dental Treatment).
Types of Surgery
1) Periodontal Flap Surgery is designed to achieve objective 1-3. It is the most widely
used technique.
2) Osseous Surgery is designed for the disease that cause destruction to the supporting bone.
It is considered a negative treatment since the surgery is involved in removal of the bony wall of the
defect. This technique is popular the 70′s and mid 80′s. As a result, the patient would have "longer teeth". However, the pocket will be illiminated quite effectively and some of the indications are still applicable at present.
3) Grafting and Regenerative Procedure is designed to regenerate the periodontal tissue that has been destroyed by the disease. Therefore, it is considered a positive treatment. However, the
result of regeneration is sensitive to a number of factors and limited to a few milimeters.
New research is directed to delvelop new materials and techniques to facilitate tissue engineering.
However, the cost of the new materials used in the regenerative procedures are sometimes cumbersome.Soft Tissue Graft : Free Gingival Graft(FGG) & Connective Tissue Graft (CNTG)These techniques are used in the area that the gum has recessed to increase the keratinize tissue(thick & non-mobile gum) on the root surface.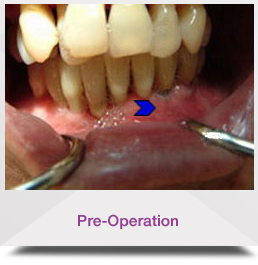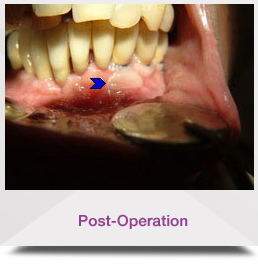 The picture illustrates the FGG on a dental implant.
The new gingival grafting material "Alloderm" is now available in our clinic to reduce the morbidity of the donor site.

 We offer full lines of regenerative materials both resolvable and non-resolvable membranes are available. For the patient's convenience bone graft from the tissue banks which are accredited by the American Association of Tissue Bank are available in many forms and shapes.
The new tissue engineering technique and materials are also available. Now we are featuring the technique to provide "Platelet Derived Growth Factors (PDGFS)" to enhance periodontal surgery, dental implant surgery and tooth extraction surgery, utilizing patient's circulations. Read more at AAP Patient Page